*Please ignore the "December 19th" date stamp. This article was actually finished and posted on the 25th - the Dec. 19 was actually when it was first started. Sorry for any confusion - this post is NEW :).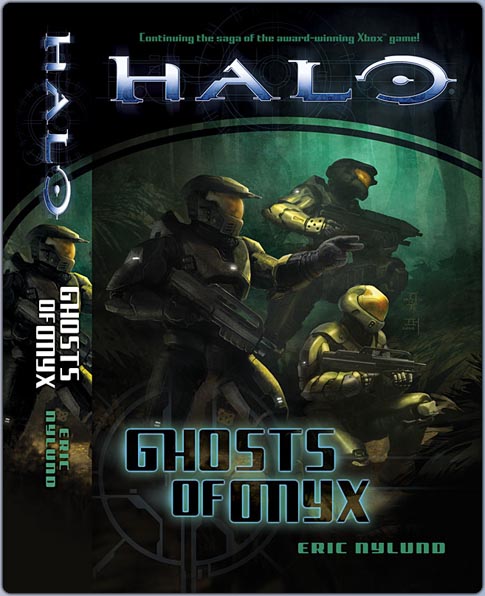 Yes, Halo: Ghosts of Onyx has been out for nearly two months now, and I know many of you have had the pleasure to read it. Or, pain, depending on how much you liked the book.

I myself am, quite unfortunately, more near the "pain" sector of the scale. There are some gripes about the novel that I have (and that I've found many others have had as well), and I would personally like to share them here.

First off, let's get started with the story. Note to anyone who hasn't picked the book up yet, there will be spoilers come next, so stop reading (why haven't you read it yet?) now. Ghosts of Onyx, following a short prologue in which we are first introduced to the Spartan III's, drops you off in a familiar place. For the first, and quite sadly last time in Halo: Ghosts of Onyx, we are dropped into the boots of Spartan-117, John.

The year is 2531, and John's squad, which now includes Spartan-051, Kurt, in replacement of Sam. He plays a huge part in the rest of the book, but we'll get into that later. Right now, John's squad is sent to a planet entitled, "Victoria", in which presides a rebel base his team must take out. This is by far, next to Fred's appearance, the most engrossing scene in the entire book. The writing is superb for all of the characters in this little chapter; it's as if we were merely sent into another flashback like in Halo: First Strike. And then, sadly, it all goes downhill from here.

After John's all-to-short part in the book, we are introduced to Kurt, who is captured leading Blue Team on a venture to a decomissioned platform in UNSC space. Their target contains a Shaw-Fujikawa drive that has a few problems with it, and they need to recover it. After being sent flying, Kurt seemingly dies as he is sent way off course into the reaches of space (heh - James, anyone?). Later, we learn he is picked up by an ONI vessle. Coinicidence? Well, no actually.

From the start, ONI planned to take Kurt to help train future Spartans (Spartan III's in this case) to get into fighting shape. The Office of Naval Intelligence has already secured a certain CPO Mendez to help the cause, but truly in the book, he isn't used that much. Throughout the entire story, I was left wondering, "well how'd he get there?", or "he's still here?" in regard to if a character is still there. This happened with many characters within the novel, but Mendez especially since he played such an extremely small role in the book.

In situations described later on Onyx, I was just left dumbfounded that a certain character, or four, were still there and alive. Last I knew they were some where else, doing something else. And now all of a sudden they're there with Kurt and company? Whether that's in part from Nylund's writing, or from my lack of interest (which can be attributed to his new writing style, which is quite obviously different than previous Halo novels).

A few other problems with characters I had were they simply either were uninteresting, or didn't feel fresh. Kurt is a good example of this. Was he a great character? Yes. But throughout the story I just kept feeling like he was a replacement for John. Similar dialogue, manerisms, etc. were all similar in some ways to the Master Chief. Whether from the beginning this was a plan, or strictly unintentional I'll never know, but for me at least, the character of Kurt just wasn't diversified enough from previous Spartans. In the earlier books, John was the badass who could go into any situation almost, survive, and say something totally cool at the end that got your blood flowing and put a smile on your face. Kelly was always the kind of "comic relief" in the sense that she said funny things at the right times to break tension, but could always hold her own in a situation. Fred, I always felt, was that kid that always got second prize or second place in something (actually described that way in previous novels -- Eric did an amazing job in his writing showing that), and it showed. I kind of always felt Fred as looking up to John in some ways, and trying to imitate him and his actions. No matter how good or how hard he fought though, he either got himself hurt, or lost some of the Spartans under his command. Even if my assumption in Fred looking up the the Master Chief is totally wrong, the writing just always made me think so.

With Halo: Ghosts of Onyx I didn't feel that way anymore. Kurt unfortunately just didn't, as I mentioned above, differ much from the other Spartans. We didn't get to know him from childhood onward. He was just there, in his thirties or fourties or whatever, training Spartan III's. I think in that sense it immediately drew me away from the character of Kurt, and made the entire novel (seeing as how most of the book focuses around this character) seem really just like another sci-fi novel. One I wouldn't normally wouldn't pick up.

Yes, Halo: Ghosts of Onyx is that radically different than the other novels that it feels like a totally new IP. Unlike previous novels, you really don't get aquainted with the technology and weapons that the Spartan III's are using. That crazy new SIII armor? Yeah, it bends light. That's all we know about it. Even though Kurt picks up the armor later - stupidly picking it over the shielded Spartan II armor when fighting these super-sentinels - we never get a "glimpse inside the HUD" like with the Mark V's of previous incarnations of the series. All we know about the actual HUD, unless we just assume things, is that it is basically the same as the SII's in that it has a radio, and LED's for Spartan confirmation. No more, no less. This was also a big factor of what turned me away from the book, and made actually reading the thing slightly more difficult.

Now onto a more solemn topic - Death. Eric Nylund has been criticized in the past for poor writing for death scenes. Personally, I've always felt the death of any major character is bad, so it never really bothered me in previous Halo novels, until this one. This novel is quite possibly the worst case of the "introducing characters to die" I have ever seen, as far as Halo novels go. In one case, a character you really get to enjoy reading about, Shane (a Spartan III recruit) is introduced at the first Spartan-III indoctrination - jumping out of a Pelican at night. After a scuffle with a fellow Spartan, he jumps out and lands safely - next to the same guy. A fight breaks out which is promptly broken up by Chief Mendez. The brief glimpse we get of Shane here, I personally enjoyed. I finally thought it would switch strictly to the Spartan III perspective for a while, to let us peer into these kids minds. But no, only eight pages later in the novel, we learn Shane has been killed, along with the kid he had fought (which said they had become "close friends". Ok, so how about letting us read that ourselves?). Yes, this and the fact that over 250+ Spartan IIIs died on that mission, and many more, does give you a sense of awe that the UNSC has stooped to this level now, but again introducing characters to die a few pages later isn't a great tactic to do so. If anything, give us a character and his friends/squadmates, let us get attached for maybe fourty plus pages, and then describe their deaths at overwhelming odds and the huge Spartan III casualty rates. Doing this would've had much more impact than how it actually happened.

More death somes in the last chapter or so of the novel, in which a character all the way from the first Halo novels is killed off in a strangely out of character fashion. Ditching standard tactics, Will goes on a suicide jump to save Kurt from a Hunter's blast as I recall. Which is strange since he's only known the guy for maybe a day, and hasn't said a word to him (he maybe has three lines through the entire book) the whole time. In the same exact area, before Dr. Halsey, Fred, Kelly, Linda, Tom, Lucy, and a couple other SIIIs are teleported to a Dyson Sphere (which is theoretically there to protect the Forerunners from the activation of the Halos), Spartan-051 - Kurt - is killed off. Yes, even though he could have quite possibly saved himself on top of the lives of his squadmates, he goes for just saving his squadmates.

But, I would like to go on record as saying that the death of Kurt is quite possibly the best death-writing Nylund has ever done within the confinds of the Halo novels. Every last thing is ironed out in gruesome detail - and Kurt seeing the ghosts of his fellow Spartans around him before passing ("Ghosts" of Onyx?) was a nice touch, and really made you feel for him, even if it was at that last second.

Well, time to stop talking now. I've run through the book to my best ability, and given my opinions on the way. Note the book is MASSIVE, and I only covered the things I thought needed covered - which was quite unfortunately mostly bad things.

That being said after reading Halo: Ghosts of Onyx for the second time, you will grow to like it more. Maybe it's just the reader making up his own opinions about what's happening, or maybe it's just you noticing the details more, the second go-around is definitely better than the first. So once you read it once, do not get aggrevated and put the book away forever - read it again and you may come across a newfound respect for it.

So in the end, I had some problems with this latest incarnation of the Halo novel, but all in all I think it was good filler until Halo 3, and quite possibly more Halo novels come out. Any Halo fan remotely interested in the Halo Universe should pick up the first three first, then this one. As Nylund and Bungie keep saying, they're great compliments to the games.

Heh, and from a UNSCDF standpoint, GoO gives us a couple more devices and weapons to analyze and write about! So win win all around!


*If you would like to argue something, post your opinions, or tell us I'm wrong, just post so in the Comments section. Hit "comments" under the post, and post your comment there. Remember, you do NOT need to be a member to post comments now, so get to posting people!


~Major Silva